On the way up to new year, I'll be listing my top 50 tracks of the year, always a biggie, but first, I want to appreciate something that might seem outdated to a lot of people, but I feel is still the essence of good music: the ALBUM.
iTunes encourages a pick and mix attitude to buying music these days, but it is a truly special album that defies this by making every track on the record simply essential. Whether it be because the album doesn't make sense without each track in its place, or whether it be that each track is a hit, the following are my top 15 albums of the year that kept the art of the "album" relevant.
- - - - - - - - - - - - - - -
"What Did You Expect From The Vaccines?"
The Vaccines
Over the last 3 years, indie rock has all blended into one for me. The same sounds, each band going through the motions with their image, instrumentation and melodies, without actually doing anything interesting or diverting. It was a fashion, not a genre of music. The Vaccines have turned this completely on its head, and have shown that the genre does have potential to be exciting after all.

"What Did You Expect...?" is a perfect title for the record, as it actually doesn't stray from the indie rock formula at all, at least on the surface. It's simply the songwriting, the lyrics, everything at the CORE of their music that is fresh, insanely catchy and infectious. They've also taken the 'art' out of Indie and brought back the 'angst' of bands like The Smiths and Pulp. Tracks like "Post Break Up Sex" and "If You Wanna" are metaphor free, and pure nihilistic teenager rock, and "Wetsuit" just oozes hormones.

The Vaccines album is short, sweet and bittersweet, like losing your virginity, or stealing money from your Mum's purse.


#14
"Perfectionist"
Natalia Kills


What you have to understand about Natalia Kills is that she knows she's pretentious, desperate, superficial... and she wants you to know ALL this. The most pretentious thing about her at first seems to be her whole 'psychotic bitch' persona... but if anyone's ever read the novel 'American Psycho', it becomes a lot easier to believe that Ms Kills has a point to make.
On her debut album under the name 'Natalia Kills', the songs frequently reference killing, punishing or torturing her spouse ("Break You Hard", "Acid Annie"), other's refer to self-destructive relationships ("Zombie", "Love is a Suicide") and other's talk candidly of severe vanity and superficiality ("Superficial", "Free"). These are pretty heavy topics, as tongue-in-cheek as they may be.
But despite the overblown pretentiousness of it all, over the course of the record, you become drawn in to this surprisingly multi-faceted and detailed persona. These are not just a random collection of pop songs given to a manufactured pop singer. Kills co-writes all her material, and it's clear from the themes running through the record that she is a fantasist (as she has claimed in past interviews), and the surreal edge to the songs on "Perfectionist" comes down to the running theme of the album, which is "What if, one day I woke up and just wanted to...?"
It helps that, musically, all these tracks are dark electropop at their finest. Working with some of the team from Lady Gaga's first record, there are a lot of audible similarities between the sharp electro beats of "Perfectionist" and 2008's "The Fame" by Gaga. But whilst Gaga sang of these issues lightly and GENUINELY superficially, Natalia Kills addresses them in a far more obsessive way, and you're never certain where fantasy ends and reality begins for her.
#13
"The English Riviera"
Metronomy
After hearing the jarring dancepunk of Metronomy's first two records, there is much surprise and delight to be had in discovering the sheer songwriting gold that the band have come up with on their third record.
Calmer, more accessible (by far) than their earlier records, "The English Riviera" is uncomplicated and chilled, featuring songs with simple messages and uncomplicated arrangements, and this new straight forward approach makes tracks like the blissed out "Everything Goes My Way" and chirpy album highlight "The Look" much more immediate.
That's not to say the band have lost their edge, as the pulsating indie disco rhythms of tracks like "The Bay" and "Love Underlined" will testify. But overall, the album is charming, catchy, deeply unpretentious and, as a result, great fun.
#12
"On A Mission"
Katy B
Although people tend to forget, Katy B's "On A Mission" was pretty unheard of as a chart hit in late 2010 when it surfaced, and I like to think it is responsible for the rise of dubstep in 2011.
However, the album itself was not just a dubstep album. It was a dance album in the most underground sense, bringing to commercial attention dance genres that had been going for years, the UK funky of "Lights On" being a massive hit for her. Working with producers such as Benga, Geeneus and Skream, the album was a fine representation of her background too. In no small thanks to "On A Mission", these producers are high profile and in demand, and tracks like these are commonplace in the charts. Let's see underground music rise just that little bit more in 2012.
Lady Gaga
There's no denying the disappointment we all felt when we heard "Born This Way" the track, I seem to remember I was pretty scathing myself in my review. I still think it's one of the weaker tracks on the album, and to be honest, the album is very flawed, and even more self-indulgent. So why place it at number 11?
The reason is that it's a grower, and the more you listen, the more you understand just how much of Lady Gaga herself went into this record. You can almost hear blood and sweat dripping from her pores as she distorts the mic on the chorus of "Marry The Night", as she cries "Put your drinks up!" in "U&I", and yes, even as she sings the awkward-to-sing "no matter gay, straight or bi, lesbian, transgender life" mid section of "Born This Way" itself.
What's also endearing about the album is just how different it sounds to all other pop music. It has the spirit of heavy metal and rock 'n' roll in a defiantly 'uncool' way, and despite it's frequent lyrical theme of forward thinking acceptance, it's very traditional in its sense of songwriting. Whilst so many pop records are razor sharp and edgy these days, what with all these 'dubsteppy' breakdowns and allegedly 'futuristic' trance synths and beats, "Born This Way"'s mix of rock and dance music truly sounds ahead of its time, at least for an artist this big.
So for an album that does sound desperately try hard, you can't help but love Gaga for unashamadly releasing a record that refuses to compromise what she wants it to be. Hair metal riffing, massive gospel choruses, german gibberish, opera singing, homages to Bruce Springsteen, a song called "Highway Unicorn", and a song so terrible that it actually ends up being great ("Judas")... despite what I said in my previous blog post, Lady Gaga really was born THIS way. Whether we
like it or not.
#10
"We're New Here"
Jamie XX & Gil Scott-Heron
The late jazz poet Gil Scott-Heron's final appearance on
record was on this remix collaboration of his first record in 16 years from 2010, "I'm New Here". The jazzy trip-hop of the original record is replaced by a typically ambient and dubby production from the absurdly talented Jamie XX.

What's great about this remix album, and also what is so haunting about it, is the meeting of a mature artist with a fresh one. Jamie XX's sounds are creative and varied, from the thunderous hip hop beats of "Running" to the irresistably funky "Ur Soul and Mine" to the uplifting house of closer "I'll Take Care of U", and Scott-Heron's words, ones we now know were his last put to record, are wise, reflective and often beautiful.
The record only works with select tracks from Scott-Heron's original record, but its choice of the most profound, honest words, particularly the tape recorder conversations featured in the interludes, which are comforting in that Scott-Heron sounds content, laughing, and in reflecting on his life in "I've Been Me", he speaks the words of a man looking back on his life and not regretting a thing. And as we say goodbye to one genius, this album also introduces us to another on the rise.
#9
"Smother"
Wild Beasts
Since their wild and eccentric debut, Wild Beasts have been toning it down with every subsequent record. Losing melodrama and gaining soul, "Smother" now showcases a band having stripped away their sound of all pretence, and the bare bones are utterly gorgeous.
Where falsetto would be rabidly horny and screechy on "Limbo Panto", on "Smother", Hayden Thorpe's vocal is now effortlessly romantic and on dreamlike, misty-eyed tracks like the haunting "Lion's Den" and blissful "Loop the Loop". A sense of tabla groove drives most tracks, take the stop-start percussive flurries of "Deeper" or the rolling tribal drums of "Reach a Bit Further", and the whole album feels simplified and content.

For a band so sexually charged, "Smother" is hardly the wanton filth-fest its title suggests, it is much more concerned with expressing passion and love, and on "Smother", the band do this tastefully and subtely, with maturity and flair.
One word you would never have previously associated with Aussie indie dance act Cut Copy is "epic". Tracks are hook filled, laid back and above all, great fun. Synths flying everywhere, beats pounding as singer Dan Whitford drawls a poppy lyric or two.
But from the second chorus of "Zonoscope" opener "Need You Now", Dan Whitford's voice opens up and soars above cascading synths spiralling downwards in a Vangelis fashion. Tracks like singles "Take Me Over" and "Where I'm Going" have a similar sunny vibe to the pop gold of "In Ghost Colours", but elsewhere, tracks start off suggesting an idea, but before you know it, the track explodes into shooting star synths and thunderous hooks.
"Zonoscope" often resembles a film soundtrack, such is its sense of "storytelling" in each track. The synths in "Pharoahs & Pyramids" begin as mere blips before threatening to swallow the track whole by the end. "Ailsa" is a pretty song, taken up a notch by its huge vocal arrangements and firework guitars and the almighty rhythm of 15 minute closer "Sun God" is hypnotic in ways you never knew the band was capable of.
"Zonoscope" shows that Cut Copy have got much more than 3 minute pop songs up their sleeves, and it feels like their most important, cohesive record to date.
#7
"James Blake"
James Blake
If Katy B introduced underground dance music to the UK charts, James Blake introduced his own brand of glitchy electronic dub to underground dance music itself. What's ironic is that, without the BBC Sound of 2011 tag around his neck, the mainstream wouldn't have taken much interest in James Blake at all. And in fact, once "Limit to Your Love" fans realised what Mr Blake was actually about, he was sent back to the underground as fast as he came, the mainstream uninterested in his unfriendly 8 bit synths and complex melodies.
But more fool them. James Blake's debut is a deeply intense and surreal listen. Funnily enough, it's his first as a singer, after a year or two of releasing instrumental EPs, and you can tell his vocal influences are... well, to be honest, you can't tell. His flurries of harshly pitch-corrected soulful harmony are a mish mash of ideas, and one that you can never quite guess the direction of.
More dub than dubstep, James' production sounds sharply quantized against its will, and his beats stop and start and never suggest a groove, as James mournfully mumbles his, somehow, still gorgeous, melodies over the top. Occasionally, a commercial flourish appears, such as the straightforward dubstep throb at the climax of "I Never Learnt to Share" or the almost conventional song structure of "Wilhelm Scream", but the real magic of James' debut is his ability to combine the totally impenetrable with traditional singer songwriter conventions.
Listening to "James Blake" is often confusing and takes a few listens to really understand what's going on. But in 2011, a record with this much complexity and hidden pleasures is rare.
#6
"Go Tell Fire to the Mountain"
WU LYF
WU LYF's sound is all at once visceral, euphoric and beautiful. The Frank Black-esque howl of singer Ellery Roberts is a million miles from the band's blissful organ and clean guitar led post-rock sound, but somehow you can't imagine it working any other way. If you had ever imagined vocals on Explosions in the Sky's material, imagine a guy throwing his guts up yelling, and you have a very crude basis for WU LYF's sound. And it's fucking amazing.
From the anthemic opener "L Y F", to the sparse, military march of "Such A Sad Puppy Dog", to the triumphantly danceable "We Bros", each and every track expresses the effortless joy of a pack of rebels enjoying their freedom. And for a band that refuses to talk to the press, and who generally don't seem to give a fuck about their (actually, widely positive) reviews, this seems a genuine record of 'heavy pop' (their term) to bring their fans together and party.
You may say that Arcade Fire pretty much covered the topic of 'The Suburbs' last year, but whilst that record felt like a sweeping, political, intense record, "Days" is a much different suburban record. From the sunny opening notes of "Easy", its clear that Real Estate are making no statements here, mainly painting a picture.
But it's a picture of mixed emotions. There's the heartfelt and youthful love story of "It's Real" and its nostalgic and melancholic brother "Green Aisles", but also the heartbreaking sadness and regret of "Out of Tune" and "Municipality". In fact, as the album goes on, it becomes clear that this record is simply a record of love songs, and its the simplistic 60s sunny indie sounds, sweet and uplifting, that bring to mind an easy time in youth where love seemed like the most important thing in the world.
Listening to "Days" is like flicking through an old photo album, and even though it isn't your own, the messages are so universal and genuine, they might as well be.
#4
"Hurry Up, We're Dreaming"
M83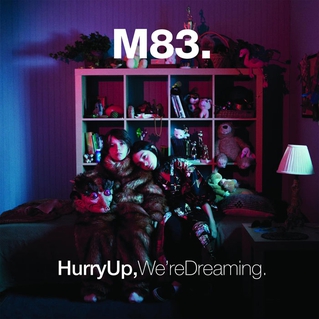 When one thinks back to M83's early days of sounding like My Bloody Valentine with synths, the opening screeching notes of the groundbreaking "Midnight City" sound like a completely different band. But the comparison potentially makes you love "Hurry Up" even more, if the days of tracks like "Teen Angst" and "Run Into Flowers" were founder Anthony Gonzalez hiding behind his synths, his belting, angsty voice now rises above them, gloriously.
Take the new age ballad "Wait", which wallows in its own bliss musically, acoustic guitars strum and bubblegum synths pop, as Gonzalez takes centre stage, belting out a gorgeous melody. And in fact, what really makes "Hurry Up" unique is its frequent use of looped vocal hooks, particularly on the insanely addictive "OK Pal" and, obviously, on "Midnight City".
On the whole, "Hurry Up" largely sounds like the 80s soundtrack to "Labyrinth" or "Legend". Atmospheric interludes take up a good deal of both CDs, but they are totally warranted, providing the necessary build up to the songs themselves, each of which explodes with massive drums and ever bigger vocals. These songs could almost be 80s pastiche if it didn't manage to take these pop ingredients, a crazy slap bass and prog rock keyboard solo on "Claudia Lewis", clanging stadium rock guitars on "Reunion", manic synth loops on "Steve McQueen", and make the record sound fresh and revolutionary.
There are even moments, particularly on "Intro" and "Outro", when the band looks back fondly at the epic walls of sound of their earlier material, and its a perfectly pitched move, and makes "Hurry Up" sound, effortlessly and triumphantly, like M83 finally achieving what they are capable of.
Friendly Fires' debut was one with an escapist party spirit, funky and catchy. "Paris" and "Jump in the Pool" were high points, huge, stargazing indie anthems, but elsewhere it felt like the band were holding back. With "Pala", this is no longer a problem.
The first thing you notice about "Pala" is its lush cover, compared with the somewhat dull grey one from their debut. All these new found colours come across in the music: the songs are bigger, the sounds are clubbier and Ed Macfarlane has some damn crowd friendly melodies this time round, and there's no shame in any of the sounds here.
90s dance smarts this record no end, as do tropical, Caribbean sounds, resulting in the the pounding tribal rhythms and rave keyboards of "Live Those Days Tonight" and the steel drums, Hip Hop beats and boyband melodies of "Show Me Lights", amoungst, well, all the other gorgeous concoctions on the record.
There's lots of firsts on this record, the shameless 70s disco of "Hurting", the band's biggest chorus yet on "Blue Cassette", but the best first, and one that I am happy to say they reached so soon in their career, is that the band sounds like they are having so much fun. Maybe even as much as their fans are, but I can tell you, that would take a hell of a lot of enjoyment. Mindnumbingly great album.
#2
"Last Night on Earth"
Noah & The Whale
The background leading up to Noah and the Whale's third record could not be more soap opera-esque if it tried. Laura Marling was a part time member of Noah and the Whale on their naive and slightly irritatingly happy debut, and full time girlfriend to Charlie Fink. Then she dumped him for (HAHAHA!) Marcus Mumford (and Sons). Woe is him, and along comes totally different (and actually revelatory) second effort "The First Days of Spring". Gorgeous, desperately sad and full to the brim with missing and regret, it's quite possibly one of the best break-up records of recent times, to put it gleefully shallow terms.
Anyway, what one could've expected from "Last Night on Earth" is debatable. The title possibly even suggests an extension of the sentiment of "First Days...", to the extent that this "last night" is a self-destructive one. Then it could be a record about living each day as if it were our last. Turns out that the latter is the case, and after a couple of full listens, it's undeniable that "Last Night on Earth", for the optimists amongst us, is Noah and the Whale's defining record so far.
"Life is Life" states "...and it feels like his new life can start", and the record's positivity escalates from there. The record itself is the band's least folk by far, much more interested in taking sounds from american Springsteen-esque rock, which may have panicked some, but actually works in propelling Charlie Fink's newfound optimism to the joyous heights of tracks like "Waiting for My Chance to Come" and "Give it All Back". Single "L.I.F.E.G.O.E.S.O.N." might be a bit saccharine for some, but it pretty much sums up the message of the record, "you've got more than money and sense my friend, you've got heart, and you're going your own way".
If Noah and the Whale can go from pre-suicide folk to life affirming anthemic rock in the space of one album, quite frankly anything in music is possible.
The story behind Bon Iver's debut record "For Emma, Forever Ago" is now an infamous one, the tale that founder Justin Vernon, wrote the record over a period of 3 months in an isolated cabin. The first record was, of course, an introduction to the fragile yet endlessly powerful voice of Justin Vernon, as well as the heartbreaking melodies and his oblique, yet still somehow touching, lyrics. The songs were all touching, but sometimes a little introverted, although this worked towards the magic of tracks like "Re: Stacks". But it was to be expected, the man did spend nigh on 100 days in a cabin on his own.
The best way to describe the sound of "Bon Iver", the band's second record, is that it sounds like Justin stepping out of the cabin and rediscovering the world through new eyes. Take "Holocene", probably the most beautiful song of the year, where Vernon declares "at once I knew I was not magnificent", although not in a negative way... this is a man humbled.
Lyrically, the whole album is as obscure as ever; it's the music that tells the real story. The sound is 10 times bigger and lusher; acoustic guitars are replaced by electric ones and voices are quadruple tracked and drenched in reverb. Echoing pianos are processed and compressed, and left to float gorgeously through the stratosphere on "Hinnom, TX", whilst warm pads give way too walls of distorted guitar and drums on "Calgary", and the infamous "Beth/Rest" is pure Genesis rock ballad, complete with sugary electric piano. Justin is no longer confined to his cabin, and he evidently wanted to express this in as many ways as he could.
Saying the album is obscure lyrically is not entirely fair. What I perhaps love most about the record is how it throws the listener a bone every now and again, with the odd lyric that speaks clearly and honestly. On "Beth/Rest", the album's most touching moment (and there are a lot) comes with the line "I ain't living in the dark no more, it's not a promise, I'm just gonna call it".
For Justin, and for all those that relate to his music, this album is a way out of the dark, albeit a cautious one, and with every melody sung, every surprising musical direction, every note plucked on a guitar and every note played on a keyboard, "Bon Iver" resonates contentment. And in a year as fraught with drama as 2011, it has been the perfect record to escape to.
If you have not heard anything of this record, I implore you to listen to just these two, if nothing more. "Holocene" and "Calgary" simply need to be heard.